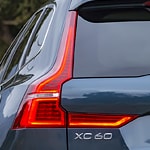 The Volvo XC60 has a sleek, stylish exterior design that is sure to turn heads. The exterior is made of a strong and durable material that will protect the car from all kinds of damage. The Volvo XC60 also comes with LED headlights and taillights, which provide an elegant look. These functional LED lights are more energy efficient than the regular lights that come standard in its rivals.
This mid-size SUV also comes standard with an aerodynamic body design that enables it to cruise efficiently at high speed with little or no air resistance. This feature makes driving the Volvo XC60 on the highway an enjoyable experience.
The rear window of the Volvo XC60 is sloped and the roofline raised for an aerodynamic design and sporty look. Combined with its angular front grille, the Volvo XC60 is an impressive SUV that comes complete with enhanced adventure-ready features inside and outside the vehicle.