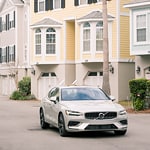 The Volvo S60 Inscription Trim is a luxurious car that offers you the best of Scandinavian design, innovative safety features, and world-class engineering. This trim level also includes the latest technology to make your ride as easy and comfortable as possible. Read on for more information about this trim level!

Powertrain And Performance

The Volvo S60 Inscription Trim is a front wheel drive vehicle that comes with an inter-cooled turbocharged engine. This engine offers you 300 horsepower and 295 lb-ft of torque to help your car accelerate quickly, while also giving it great fuel efficiency. You can choose between the four-speed automatic transmission or the six-speed automatic transmission.

Interior And Exterior

The Volvo S60 Inscription Trim comes with an elegant interior that has been created in a special diamond pattern, giving you luxurious leather seats and a handsome exterior that's sure to make heads turn as you drive down the road.

Entertainment And Convenience Features

The Volvo S60 Inscription Trim also comes with a variety of entertainment features that provide you with everything you need to enjoy your drive – including Bluetooth compatibility, GPS navigation, and SiriusXM Satellite Radio.