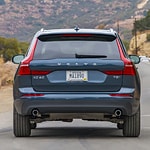 Here at Chattanooga Volvo, we appreciate the Volvo commitment to safety. We also think drivers in Chattanooga, TN recognize that the Volvo XC60 has many impressive safety features. Among these are better airbags that are placed in more protective positions throughout the SUV.
Each Volvo XC60 comes equipped with front, overhead, side, and knee airbags. The goal of the airbag placement in the XC60 was to give everyone in the cabin the maximum coverage. Front-impact airbags are meant to protect the head. The overhead airbags work with the front-impact airbags to minimize impact from multiple directions.
Side-impact and knee airbags are engineered to protect the torso and lower extremities. Volvo knows that too many auto manufacturers focus solely on head impact. These new placements have shown great promise in testing to reduce the chance of serious injuries to other parts of the body. The Volvo XC60 leaves nothing to chance when it comes to your personal safety.