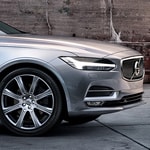 At Chattanooga Volvo, many of our car buyers are concerned about safety. In fact, safety can be a primary consideration when buying a new vehicle. That's why the Volvo V90 is one of the most impressive cars in our inventory. This luxury wagon boasts cutting-edge safety tech.
Think about driver awareness and how important it is to your safety. The Volvo V90 incorporates features like Distance Alert and Driver Alert Control to give you greater focus. More attention on the road means less chance of an accident. These are just two examples of how Volvo goes the extra mile to help protect Volvo owners.
Would you like to test drive the new Volvo V90? All you have to do is call or stop by our dealership in Chattanooga, TN. You will find a helpful sales staff that is waiting to answer any questions you might have about the safety technology of the Volvo V90.