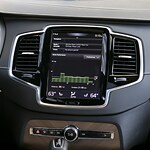 The team here at Chattanooga Volvo is excited to share one of the most popular luxury SUVs on the market. The Volvo XC90 offers a collection of luxurious performance features to give you the driving experience you've always dreamed of.
One of the most efficient performance details of the 2020 Volvo XC90 has to be the innovative start/stop technology that takes over when you stop the car. At every red light or another stopping point on the road, this technology will shut off your engine until you resume driving which saves on gas and emissions. On the steering wheel, the driver can easily adjust the feel of steering to optimize their comfort and control of the vehicle.
Come visit our showroom in Chattanooga, TN to check out the performance features of the Volvo XC90 for yourself, and head out on a test drive to experience the difference.